Our Blog
Poco Windy #6 "The Where, When, and How of NM CTE"
CTE. Where have we been? Where are we headed? Past. Present. Future.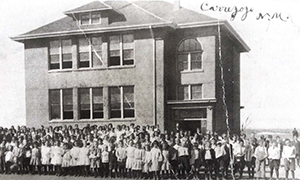 NM CTE has been around for quite a while. Following World War II and 12 million GIs returning home to America mostly from overseas, rural schools started growing out of their one-room schoolhouse origins into modest sized campuses with multiple buildings, classes, and programs. Among the program growth was CTE.
As we mentioned earlier in blog #1, CTE was mostly local and limited to subjects like home economics, Vo Ag/welding, wood shop, and maybe typing. Programs were stand alone, supported by student vocational organizations like FHA, FFA, DECA, and VICA, among others. After World War II, NM four-year colleges also started cranking out many of these CTE instructors. Others came from out of state to New Mexico.
By the 1960s, two-year colleges (a uniquely American idea by the way, first known in the 1930s as junior colleges) started emerging. In NM we had had two - NMMI and NM Junior College in Hobbs. Later, in the 1960s and early 1970s came vocational institutes or area vocational schools. Places in New Mexico such as Albuquerque TVI (TVI as it was known), New Mexico Technical-Vocational Institute (NMTVI, Espanola/El Rito), Luna Vocational Technical Institute (LVTI) in Las Vegas, San Juan Branch Area Vocational School (Farmington), and Tucumcari Area Vocational School (TAVS) - the current Mesalands Community College. The past.
All five mentioned above were later to become community colleges as New Mexico added stand-alone branch occupational centers, stand-alone two-year community colleges, and two-year branch campuses (22 now in all) between the early 1970s and 1991, when the UNM Taos Instructional Center and the ENMU Ruidoso Instructional Center were approved. The last of the two-year campuses. All campuses offer CTE of some kind, some better than others. A recent rating (2018) of NM two-year college CTE programs rated the New Mexico CTE top five as (1) San Juan College, (2) CNMCC (the former ATVI), 3) ENMU at Roswell, (4) New Mexico Junior College in Hobbs, and (5) Santa Fe Community College. The present.
A side note on the people side. For decades, many of the NMCTE programs, people, and processes came from Oklahoma. Oklahoma had and still has a vast system of CTE campuses specializing solely in CTE programs - 29 technology center districts on 58 campuses. A number of distinguished CTE administrators at NMPED/NM CTE campuses and technical vocational institute and local school district CTE instructors came decades ago to New Mexico out of the Oklahoma system.
What does all this have to do today with NM high school CTE? Three CTE delivery New Mexico models have now emerged. Model one: local high school CTE programs. There are very few viable high school programs left. An undersupply of certified CTE teachers. Outdated equipment. Underinvestment in almost everything else. Frankly, it's getting harder, very hard, to equip, supply, and operate 21st century programs in high schools. An example: This writer dropped by the San Juan College (SJC) auto tech program a few years ago with two state agency and industry reps to discuss potential compressed natural gas (CNG) fuel tech training. We found SJC had a fleet of semi-trucks on which students can work, acres of lab and classroom space, the latest testing equipment and tools, and a vehicle parts department that looked like NAPA! Just for student/instructor use. Plus, long established corporate working relationships with Toyota, Chrysler, Honda, and General Motors. High schools can no longer compete with such programs.
Which leads us to the model two: A community college plus adjoining member public and tribal school districts with joint CTE programs. With school district mill levy or partner fee support. A cluster of partnering institutions run by a joint board. Students attend their local high school through the end of their sophomore year then are bussed daily to the regional CTE school at the community college for all of their final two years. Dual credit.
And model three: A regional education cooperatives (RECs), member public, and tribal school district programs through MOUs with a variety of community colleges (depending on their CTE expertise). Out-of-the-box training, funding, and operating arrangements. The future.
Want a high quality 21st century CTE for NM high school students? For attracting a quality workforce to your rural region? Try models two or three. Create a CTE district maybe through any one of New Mexico's 10 RECs. Earn mill levy support from local voters, earmarked exclusively for CTE. CTE - powering rural economies with expanded CTE opportunities for students. All students. 
This is the home of Region IX CTE. Thanks for stopping by.