Our Blog
Poco Windy #7 CTE: More Girls Needed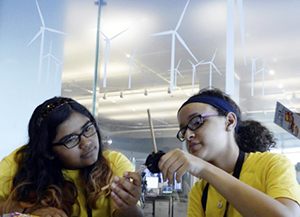 Career-technical Education (CTE) today is very different than your grandmother's vocational education. Remember typing and home economics? Maybe a little different in rural areas where girls more often also had the opportunity to participate in Vocational Agriculture. Today, however, 21st century CTE is increasingly important for girls seeking to earn their way in a far wider, more intensely competitive market place, according to the American Association for the Advancement of Women (AAUW) almost a decade ago.
Not 5:00 p.m. yesterday news. Girls too must compete for high skill, high wage employment not only in local and state markets but increasingly, across the national and worldwide economy.
CTE research indicates that today nearly half of students enrolled in CTE are female. Girls far outnumber boys in health science and human service CTE programs (and of course, still in early childhood and elementary education). Boys steer toward manufacturing, information technology, and construction. Does it have to be that way - either way - at a time when employers search often in vain for an inadequate workforce? How do we make the change – getting dramatically improved numbers of girls into most or all CTE programs and occupations?
If we are serious about increasing enrollment of girls in CTE, here are a few suggestions. 
CTE programs need to work more closely, more consistently, with public and tribal school organizations, with other community organizations, and non-profits who already work with girls. Lots of them. Make them serious partners in teaching girls from a young age about their expanded career and training options. 
Start funding and providing support services such as dependent-care (serving pre-K and/or the elderly), counseling, tutoring, and tuition assistance for not just female-oriented careers. All of them.
Pay more attention to recent CTE program results. Current results are striking. Research suggests that CTE "concentrators" - meaning students taking two or more related CTE courses (they stuck with it!) - are more likely to graduate from high school on time, more so than high school students in general. CTE: more girls needed.
Here's how schools could do it. Early in high school, offer a one-semester course rotation for all students, giving them several weeks in each CTE area. Such a plan gives girls exposure to CTE areas they may not have considered. Instructionally in CTE, make sure we size items, such as personal protective equipment/clothing (PPE) right for smaller students including girls. Create team projects that can employ all-girl teams or appropriately constructed mixed-gender teams. Finally, guide teachers and other instructional support personnel to help girls overcome possible nervousness or hesitancy. Encourage and support confidence in girls. Let's get started.
This is the home of Region IX CTE. Thanks for stopping by.