Our Blog
Poco Windy #16: A CTE Instructor Career Part 1 - Step into the Story
One of the very best parts of the continuing CTE story is the people involved, the instructors that work in CTE fields, training America's workforce. It's a story worth reading about, worth telling and retelling. How, in this particular case, a guy chose a CTE career as a Vocational Agriculture instructor in New Mexico instead of something else. Taught Ag mechanics and welding, raising livestock and meats processing, and soft skills – strong work habits, organization and character for quite a few years. Followed a legend in the business by a few years in his first teaching job, and eventually became one himself. Today, several generations of NM Vocational Agriculture Instructors - CTE instructors - trace their career roots to the example he set, supported by his leadership and mentoring. The instructor's name is Gaines. Mike Gaines. Step with me into this New Mexico CTE story.
The story begins in 1976. After finishing high school and working in the mining industry for a year, Gaines enrolled at NMSU as a general Ag student. The Ag Ed department chair on some informal occasion that year encouraged him to consider teaching, later encouraging him with a small scholarship. It turned out to be a career-defining moment. Gaines enrolled in Ag teacher education, graduating in May 1980. Recruited by and hired that month in Carrizozo, he taught Vo Ag there for a number of years. Then over time, he taught at several other central New Mexico public and tribal high schools, later also at a community college. Eventually 35 years of CTE instruction. Mike was often hired to pick up the pieces of, to resurrect badly broken CTE programs characterized by poor instruction, little student discipline, and no program budget. Disorganized and dirty facilities. Poor equipment, little or no equipment or PPE management. Gaines' programs turned around quickly and soon became award-winning at the state and national level including in Washington D.C. Award-winning.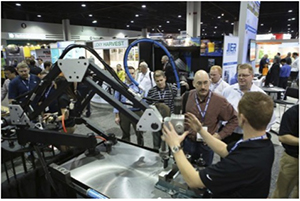 Sometimes, Mike taught at a high school, left and then came back years later to the same school, to pick up the CTE pieces again. To clean up and reorganize again. In doing this, he left CTE programs in excellent shape and hoped they stayed that way. Later, he would also create the new CTE welding program at Eastern NM University at Ruidoso, establishing it also to the highest AWS national standards. Overall, quite a CTE career.
In a recent interview, Gaines was asked - why did he choose CTE in the first place? What was a CTE instructor career like? How has CTE changed over the years? And, what is needed now in CTE? Gaines responded that he had always liked working with his hands, on projects. As a high school student, he had gone through four years of a Vo Ag program, with four different teachers, no materials, and poor equipment. He thought he could do better if he became a CTEAg instructor. What was the career like? Gaines would tell you long days, satisfying hours. An endless number of high-quality projects and kids. Much of it in the heyday of CTE – New Mexico, the 1980s. "Our time was the 1980s" reflected Gaines in the interview. Afterward, school districts' focus shifted to other things, became more responsible for student lives, and away from CTE. Gaines got a lot of satisfaction in working with kids, interested, supportive grownups, and industry partners. And, he made a good living.
The Gaines story is only one of many CTEs "people" stories. Legendary CTE instructor Mike Gaines. Next time, we will cover the second part of the Gaines interview and his suggestions for the CTE future.
This is the home of Region 9 CTE. Thanks for dropping by.