Our Blog
Poco Windy #17: A CTE Instructor Career Part 2 - Step Back Into the Story
Step back into the story – the interview with long-time CTE instructor Mike Gaines. In addition to answering several career questions, the interview with Gaines also offers insightful suggestions regarding how CTE has changed over the years, and what is needed now in CTE. 
One, most high schools still have a shop, often an embarrassingly out-of-date one. Like with cell phones and everything else, technology has changed, dramatically. At the teacher training level, NMSU has an out-of-date shop but with new plans to upgrade. ENMU in Portales has not had a shop for their Ag teacher training program. ENMU Ag graduates have no college-level, hands-on mechanics training which comprises much of the high school Ag curriculum. Yet, it is hands-on tools and equipment (the 'cool stuff") that in part attracts students to CTE in the first place and later, into CTE careers. But the CTE instructors need to be taught the skills first. 
Two, the college Ag teacher ed curriculum needs to return to a much heavier emphasis on hands-on skill training, on the incorporation of newer learning materials in digital formats. The current Agri-science emphasis has overshadowed and displaced hands-on shop training. Reasonable risk-taking too needs to be taught in the Ag Ed curriculum. New instructional materials, not available affordably from NMPED, are available elsewhere, materials such as 'Welding Tips & Tricks" for free on YouTube. These types of materials help motivate and teach high school and college students. Could and should be part of the Ag teacher ed curriculum. Might make an Ag teaching career even more attractive too.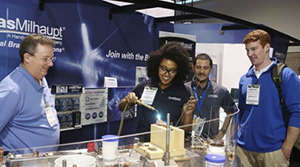 Three, there needs to be a renewed emphasis on PPE, and not only due to COVID-19. High school athletes are provided with their own individual clothing and protective equipment including helmets. And lockers in which to store it. Few if any CTE students are provided these items. Separate PPE is needed for each student. If one student sneezes into a face shield, typically the next student puts on the same shield the next class period, without disinfection. Systematic disinfection of CTE equipment, PPE clothing such as coveralls, face shields, helmets, gloves. Raise the bar now for high schools, administrators, teachers, and kids. Invest in and improve the management of PPE. Upgrade PPE including regular disinfection. Upgrade the shop too. 
Four, periodic orientation of secondary school administrators should be instituted to improve principal, central office, and Board of Education understanding of current CTE programs. Cordless tools, software design programs, use of drones, renewable energy devices to name a few, make up the changing complexion of Ag mechanics CTE. Visits to national industry conferences such as 'FabTech Expo' with CTE instructors would bring equipment standards up considerably as well as maintain awareness of the latest developments in the field. 
Five, the gender mix of CTE instructors, particularly vocational agriculture has changed where today, an estimated 60% of instructors are women. Women, however, have not had the same training opportunities in the hands-on mechanics' portion of instruction as men. Hands-on training needs to catch up. And, after women and men enter the teacher workforce, systematic follow-up training needs to happen each summer for all Ag CTE instructors through NMSU, just like more than a decade ago.
CTE Agriculture is still an attractive field, according to Gaines. Recent salary improvements have helped. More needs to be done however to attract the brightest and the best into this CTE teaching field. 
That's one of many CTE 'people' stories. Legendary CTE instructor Mike Gaines. His enduring sense of duty and sense of service in CTE Ag instruction. 
This is the home of Region 9 CTE. Thanks for dropping by.