Our Blog
Poco Windy Returns #24: AHOD at Corona Wind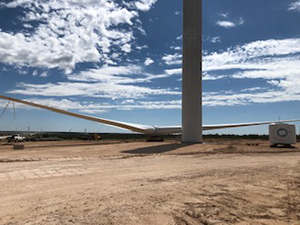 It was recently all hands on deck (AHOD) again as the saga of Region 9 Education Cooperative industrial-scale wind energy CTE resumed. The REC 9's volunteer recruiting/demonstration force - its wind energy "A-team" now including Program Coordinator Makayla Johnston - hit the road to Corona on August 27 to meet Mesalands Community College officials at the NMSU Corona Research Ranch where the Pattern Energy 'Red Cloud' Wind Farm nears completion. A Research Ranch/Sustainability Center orientation from Ranch Superintendent Shad Cox and a Pattern Energy - New Mexico Project tour were also arranged as part of the trip. Rec 9 CTE Tech Emmanuel Hernandez brought REC 9 wind project high-end aerial drones to assist NMSU media relations staff also meeting at the NMSU Ranch with developing site/project video material.
Three highlights from the visit included:
One, a wind energy project update - 300 of the 377 anticipated wind turbines, grouped in four wind farms, are now erected, including 41 on the NMSU - Corona Ranch. Four operation/management centers (one at Red Cloud) are also nearing completion, as are Gen-tie (Generation-tie) transmission/IT connections (all underground), and high voltage power substations (one per wind farm) all slated for early November completion and connection to the soon-to-be-completed Western Spirit high voltage transmission line. Power will flow to Albuquerque and the Four Corners hub by January. The mammoth project is twice the size of the XCEL Energy Sagamore Wind Farm south of Portales, energized in late 2020. The Corona complex will now be the largest of its kind in New Mexico. An estimated 35+ new wind energy technicians will be needed at these first four farms.
Two, the Pattern - NM representative also reported that the SunZia project, just to the south of Western Spirit in northern Lincoln County, and its seven wind farms, once approved to start construction (hopefully in 2022), will be three to four times larger! Construction infrastructure siting appears to be underway. As many as 80+ additional wind technicians are also expected to be needed.
Three, the new Mesalands CC President, Dr. Gregg Busch, received a boots-on-the-ground introduction to the industry, the Corona Wind projects, and the Rec 9 Wind Energy A-Team. Mesalands is the site of New Mexico's only wind energy training program on the campus in Tucumcari at its North American Wind Energy Research and Training Center. Busch was accompanied by veteran Mesalands' instructor and experienced wind industry technician Andy Swapp, the collegiate member of the REC 9 Wind Energy Advisory Board.
The A-Team, in travel conversation to-and-from the Red Cloud site, learned that their recruitment of dual credit students over the past couple of years has now taken on a life of its own. Wind program enrollment at Mesalands is up, including students from a number of Region 9 member district schools, led again by Mescalero Apache High School (no surprise). And, a small but growing number of Lincoln County high school graduates have completed or are nearing wind energy program completion. All hands remain on deck.
This is the home of Region 9 CTE. Thanks for stopping by.