Our Blog
Poco Windy #3 "Being a Wind Turbine Technician: Under the Microscope"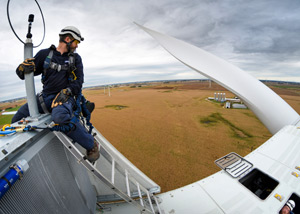 Imagine this. You are in northern Lincoln County, or in Catron County, or maybe Eddy or Chavez County, and headed to your office to work. In a company truck. Except, your 'office' is more than 200 feet off the ground. Atop a wind turbine tower. As a member of a technical team that is responsible for ten to 15 towers per technician. Wearing a hard hat, safety glasses, and gloves. Regular work clothes. Hooked into safety harnesses. As a wind turbine technician. Sound like your kind of deal?
What does a technician actually do? Work varies slightly by company, but in general a wind technician "installs, inspects, maintains, operates, and repairs mechanical, hydraulic, and electrical systems." Safety is the top priority at every step. Conducting risk assessments. Soft skills - people skills - are every bit as important as technical skills. Technicians typically work in teams. Getting along with teammates daily. The ability to communicate clearly is important, often critical. Short written paragraph pieces. Also spoken communication. Lives depend on all three types. Up top, tightening bolts, changing filters, collecting, and reporting operating data (using those communication skills). Checking fluid levels. Back down on the ground, vehicle care and light maintenance. Representing a company. Being an important part of a 21st century rural New Mexico community.
Enter CTE. As a dual-credit high school junior or senior enrolled in the Wind Energy career-technical education program through Region 9 and Mescalero High Schools, you will experience high-quality instruction. Instruction - part on-line, part live, lab-based, hands-on here in Lincoln/Otero Counties, part in Tucumcari at Mesalands Community College (MCC). Free. Serious technical training. Remember: writing and math skills are still important and useful in this type of job. You will have energy industry experienced MCC instructors. Six courses will get you the initial occupational certificate and entry into the wind industry. Talk to your high school counselor today about signing up for the January semester. Or call the Region 9 office at (575) 257.2368 and ask for Ms. Blackwell. Or start registering on the Mesalands Community College website, today.